I ate ice cream for breakfast this morning!!! Anyone else?

Most people eat ice cream on birthdays and holidays. I eat it when I'm sick.
Sugary foods eff me up so bad. Either they run me down when I'm trying to work out, or they keep me awake with heart palpitations at night.
The only time I can afford to eat junk is when I can go nowhere and do nothing.
The Phantom Flu started when I showed up at my boyfriend's last Friday. It was his birthday. He was very very very sick.
Upon seeing him, I jumped back into my car and took off. NOT!!! It was his birthday! I ran to our local health food store. Over my shoulder, I cried: "It's not taking us without a fight!"
Here's what I bought for the great battle.
Echinacea Tincture


Coconut water (duh)


My favorite greens formula

My boyfriend eats VERY healthy. BUT he's not a psycho like me. Still - he really liked the green juices I made for him, mixing up the macro greens and the coconut water. On Monday, he texted me from work. "I want more green coconut water!" He said.
I LOVE when people I love love the tasty healthy food that I LOVE!!!

Sooo... back to the Phantom Flu. Did we win? Yes and no. I think I created a monster.
Friday, he was sick.

By Saturday, he felt completely better.

By Sunday, he was back in bed, feverish, and sleeping again.
My sickness started on Monday. It made me feel out of it, but not so out of it that I couldn't go to work on Tuesday. By Tuesday evening, I was in bed moaning. Wednesday? Bouncing back. Thursday. Out of it. Again.
See? Phantom Flu.
Halfway through the week, I went back to the health food store. I bought some more stuff - some health Nazi cold fighters - just for myself.
Raw Garlic and Tomato Juice

I chop it up into the juice, let it sit for a couple hours, then drink. Glorious!
Women's Simply One

I can't believe it took me this long to take a multi-vitamin! I love it!
Probiotics and Spicy Foods!!!!

Perfect timing, no?
This was the best salad I've had in a long time!!!

I drank two boxes of tea!!!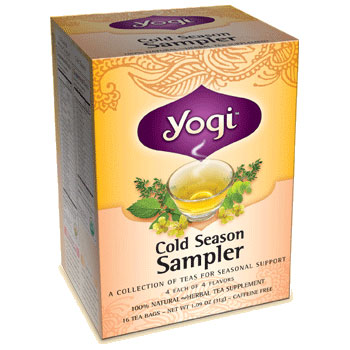 For years, I've stood by Gypsy Cold Care, but I have to admit, I LOVE the peppery goodness of Yogi Cold Season tea.
Of course, neither one compares to my own brand, Beacon Tea!!!


Phantom Flu Slayer


Cinnamon
Ginger
Tumeric
Chili Powder
Cayenne
Raw Honey
1/2 cup water
1/2 cup almond milk

In the end - was it smart to crimefight the Phantom Flu?
Yes and no.
Echinacea and greens can only do so much. The illness still came for me. But it took only a part of me with it. This can be a good or bad thing.
To anyone who saw me this week, I didn't look sick at all. I had no runny nose, no cough, no chapped voice. But I felt HORRIBLE. I was nauseous. I had a headache. Every swallow felt like I was swallowing glass!
Sometimes, I wondered if it would've been better to just surrender!
Toots


What do you do when you get a cold or the flu?